2018 State Tournament
The dates for the 2018 state tournament are April 7 and 8 at the beautiful Eau Claire Sports Center. Hotel information can be found using the tab on the left side. Get your rooms fast as many hotels are already sold out. Can't wait to see everyone in Eau Claire!
2018 State Tournament Registration
Registrations for the 79th annual state tournament are due March 24th. There are four divisions of play: A, B, C, and Womens. Registration forms can be found on the
state dartball website
link on the left.
2017 2-Man Tournament Results
The 2017 version of the 2-man tournament saw 15 teams participate in an action packed day. Chad Anderson and Scott Miller were crowned the champions at the end of the day. This is their first 2-man title. Thanks to all who participated and see everyone next year! The rest of the results are below.
Area Teams Compete in State Four-Man
Four area teams competed in the 2017 state four-man tournament December 2nd held in Richfield, WI. A total of 44 teams spread out over three divisions entered the tournament. Club 40, playing in Class A, was the best finisher from the area by winning the consolation championship. They beat out Pete & Sons Too out of Green Bay in a one game, nine inning affair. Congratulations to all teams.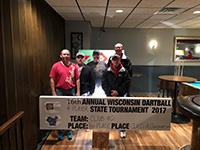 Looking for Stats?
Check out the stats tab for all up-to-date league stats. Under the stats database section you will find individual stats, team stats, and run averages for this season and prior seasons. Clicking on high hitters will take you to the players that hit 0.500 for the week. Lastly the weekly results tab will show you all the scores from each week. Lots to view and explore!